Parameter Study PET Driver¶
The Parameter Study Driver generates a set of inputs based on the type of Design of Experiments (DOE) that is being conducted. Then the driver evaluates the analysis workflow at each of the generated input sets and records the values of the objectives.
The Parameter Study is configured by setting and adjusting a number of its attributes. These attributes can be accessed by left-clicking a Parameter Study and then looking under the Attributes tab of the Object Inspector window.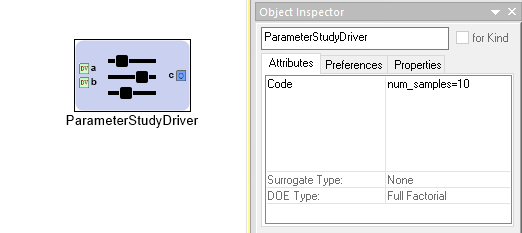 Code¶
The Code attribute is used to pass configuration variables to underlying MDAO engine. For example, in the image above you can see we assigned the variable num_samples the value of 10. You will use this field to set other values such as seed and num_levels. See the DOE Types section below for more information on what code variables need to be set for each type.
Surrogate Type¶
The Surrogate Type attribute is not currently documented.
DOE Types¶
The DOE Type attribute determines the sampling method by which the Parameter Study explores the Design Variable space. Different DOE Types can be selected by left-clicking the DOE Type attribute field and selecting the desired method. The different types and their accompanying configurations are described below.