Test Bench Basics¶
Introduction¶
The Test Bench is the OpenMETA model object used to define how an OpenMETA system model should be translated into an executable domain-specific model, analysis, or simulation. When a Test Bench is executed with the Master Interpreter, a job is created, ready to be processed by the Results Browser.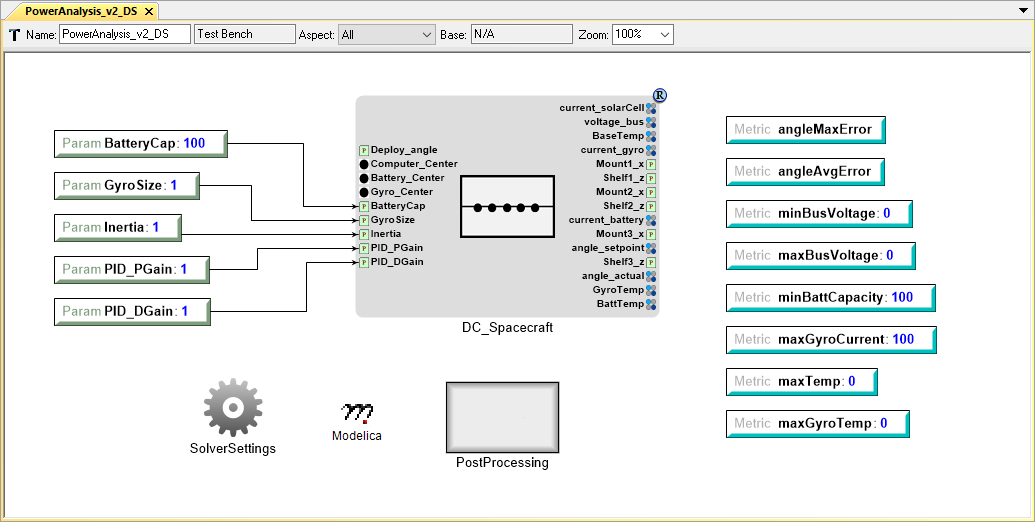 For example, the Modelica Test Bench above defines how a spacecraft system model composed of OpenMETA components, each containing a Modelica model, should be translated into a Modelica system model that includes the complete set of equations. When the job is passed to the Results Browser and executed, the Modelica solver consumes the system model and returns the results.
Test Bench Functions¶
Simulation Test Benches¶
In the OpenMETA Tools, test benches most often serve as a virtual environment used to run experiments on a system. Test benches define a testing context for a system, providing sources of stimulus and loading elements that gather experimental data. In OpenMETA, a user can dictate the test conditions for their experiment themselves or choose from a library of pre-configured test benches that represent design requirements or other criteria. In addition to the configuration of test conditions, the user can customize the data gathered through the execution of a test bench. A good example is the Modelica test bench described above.
Artifacts-Generating Test Benches¶
While most test benches are used to perform analyses, other test benches can perform design services for the user. For example, a user that has completed an OpenMETA design can run a test bench to auto-generate a schematic of their design. Additionally, the user can run a CAD assembly test bench to build a 3D model of their design.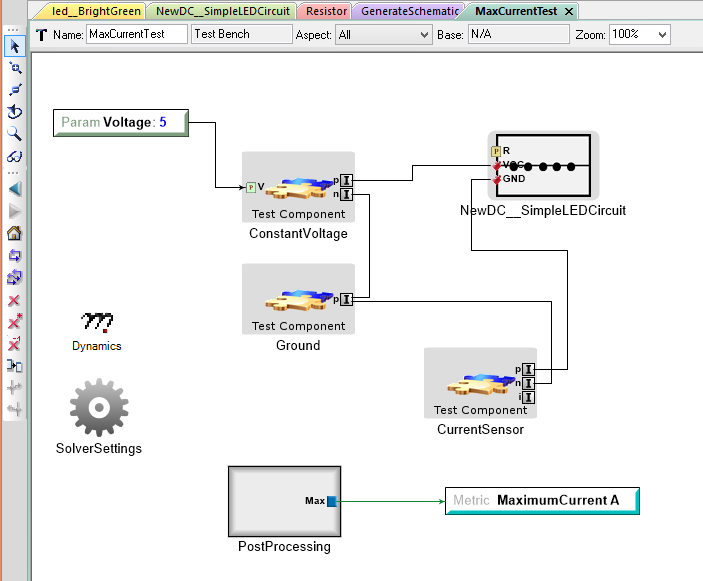 "NewDC__SimpleLEDCircuit" is the System Under Test, while the other test components provide the Wraparound Environment.